HHAA Radiance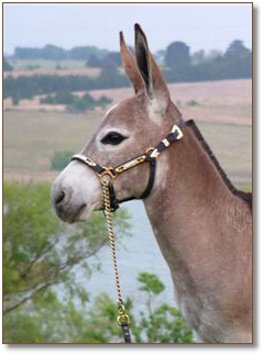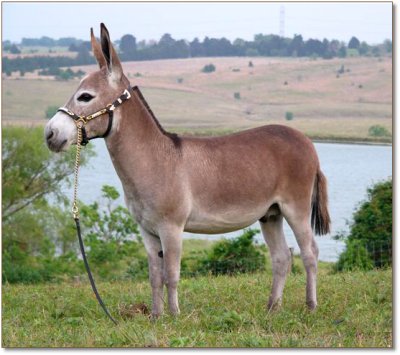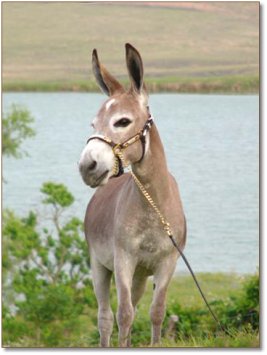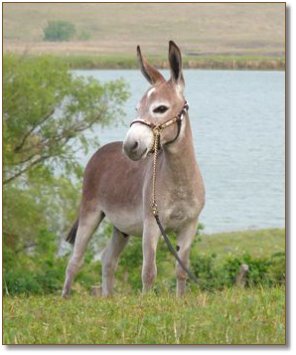 30¼" Dark Red Jack w/Star
DOB: 7/08/07

Sire: Windcrest Firefly, 30½" Dark Red w/Star
Grand Sire: MGF Fiftyfire, 31½" Red-Roan
Grand Dam: Windcrest Pinkie, 32" Red

Dam: Ass-Pirin Acres Felina, 31½" Dark Red-Roan
Grand Sire: Arbor Ledge Little Red, 31½" Red
Grand Dam: Shawmar's Fatima of Ass-Pirin Acres, 32" Red


The minute we saw Radiance at Half Ass Acres in Chapel Hill, Tennessee we knew we had to have him. He was only 3 days old, but we could tell he was going to be special. Luck shined upon us and Joe and Dayle Haworth allowed us to purchase him. We didn't see him again until after Christmas when he arrived at our house. He was a fuzzy little cutie and so sweet. We clipped him this April and under that fur we discovered a gorgeous little jack. He is only 29" tall, but he has a fantastic chest and butt for a coming yearling. You can see his alert presence in his pictures. We could not ask for more. It will be a while before we will breed Ray and see his offspring, but we can tell it will be worth the wait.



SOLD!




~ Click here to return to our 'herd sire' page ~
979-247-4965 Fax 979-2474862
Tonnie and Jerry Willrich




Web Mastering by Dayle