Miniature Donkeys
For Sale

Please email Itsy Bitsy Burro Company by clicking the "Email" link above if you are looking for something special that you do not see below.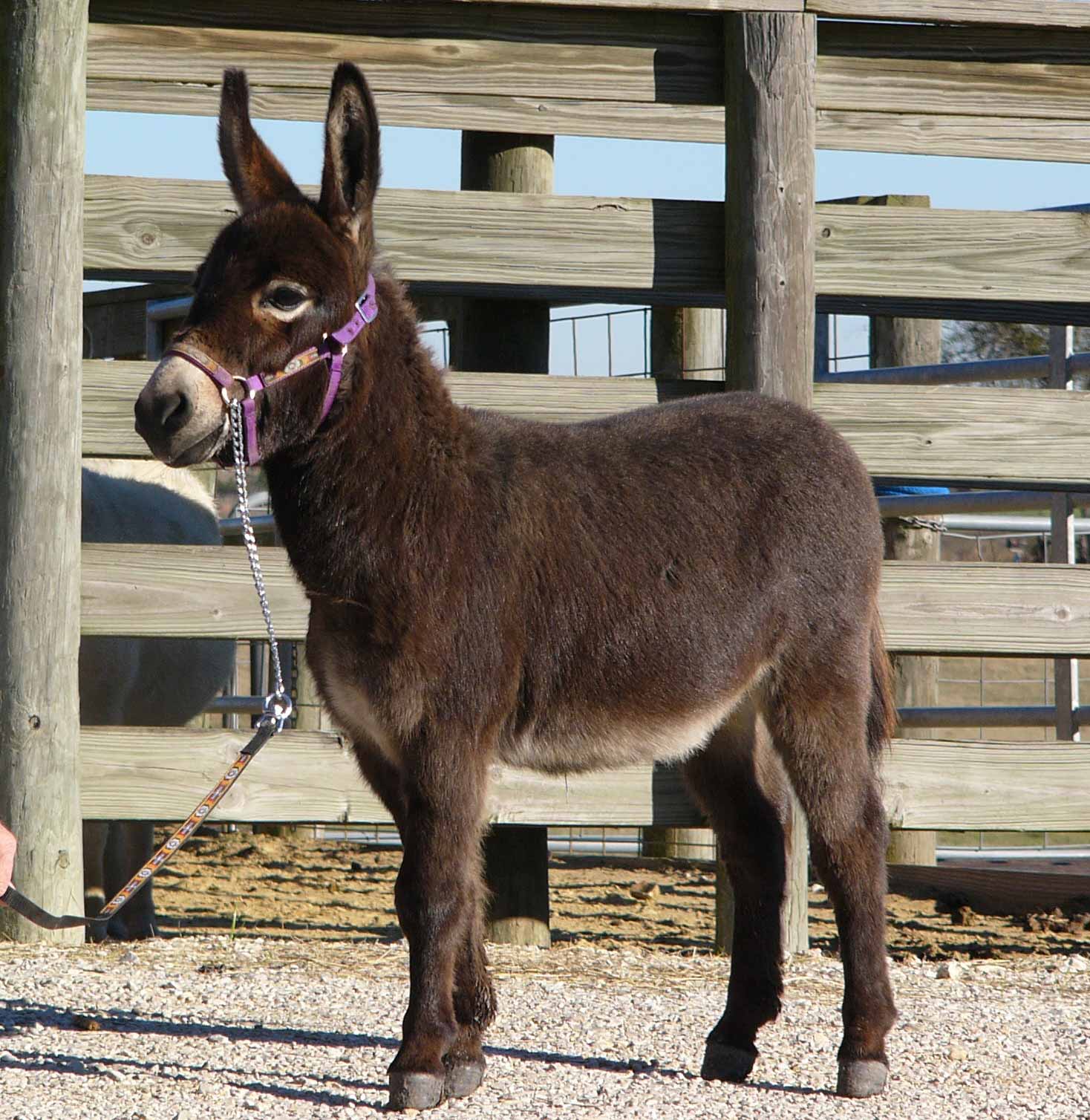 Itsy Bitsy Triple Crown
Sire: Sunset Acres Smart Derby
Dam: Itsy Bitsy LN Sonne
Color: Dark Brown
D.O.B. May 1, 2007
Gorgeous Derby son out of one of our top show jennets. His attitude and appearance make him a show stopper.
SOLD
Rosita
Sire: Circle C Main Event
Dam: RB Rosa
Color: Brown
D.O.B. 6/15/2005
33 1/2"
Gorgeous Main Event daughter: Rosita has a wide chest, straight legs, level topline, and an adorable small head. Ready to breed.
$2,500
Itsy Bitsy Prairie Brae
Prairie Brae is a delightful and loving gelding . He will stay very small.
$500
Itsy Bitsy Puzzles
Sire: Happytime Acres Pep-R-Oni
Dam: Itsy Bitsy Lordus
Grandsire: Pope Farm Teaspoon
Color: Gray and White Spotted
Sister to Champion Jennets
Itsy Bitsy Cashier and Itsy Bitsy Leading Lady
D.O.B. January 3, 2008
SOLD
979-247-4965 Fax 979-247-4862
Tonnie and Jerry Willrich ~ La Grange, Texas


miniature donkeys, miniature, donkeys, mini donkeys, miniature Mediterranean donkeys, Sicilian donkeys, miniature donkeys for sale, donkeys for sale, farm animals, equine, miniature equine, pets, pet, gentle pets, miniature donkey pets, donkey information, jacks, jennets, foals, geldings, donkeys in Texas, Texas, State of Texas, jackass, burro, burros, jenny, jennies, jennets, donkey babies, quality miniature donkeys, breed, breeding, breeding miniature donkeys, animals, small donkeys, miniature donkeys, miniature, donkeys, mini donkeys, miniature Mediterranean donkeys, Sicilian donkeys, miniature donkeys for sale, donkeys for sale, farm animals, equine, miniature equine, pets, pet, gentle pets, miniature donkey pets, donkey information, jacks, jennets, foals, geldings, donkeys in Texas, Texas, State of Texas, jackass, burro, burros, jenny, jennies, jennets, donkey babies, quality miniature donkeys, breed, breeding, breeding miniature donkeys, animals, small donkeys, miniature donkeys, miniature, donkeys, mini donkeys, miniature Mediterranean donkeys, Sicilian donkeys, miniature donkeys for sale, donkeys for sale, farm animals, equine, miniature equine, pets, pet, gentle pets, miniature donkey pets, donkey information, jacks, jennets, foals, geldings, donkeys in Texas, Texas, State of Texas, jackass, burro, burros, jenny, jennies, jennets, donkey babies, quality miniature donkeys, breed, breeding, breeding miniature donkeys, animals, small donkeys, miniature donkeys, miniature, donkeys, mini donkeys, miniature Mediterranean donkeys, Sicilian donkeys, miniature donkeys for sale, donkeys for sale, farm animals, equine, miniature equine, pets, pet, gentle pets, miniature donkey pets, donkey information, jacks, jennets, foals, geldings, donkeys in Texas, Texas, State of Texas, jackass, burro, burros, jenny, jennies, jennets, donkey babies, quality miniature donkeys, breed, breeding, breeding miniature donkeys, animals, small donkeys, miniature donkeys, miniature, donkeys, mini donkeys, miniature Mediterranean donkeys, Sicilian donkeys, miniature donkeys for sale, donkeys for sale, farm animals, equine, miniature equine, pets, pet, gentle pets, miniature donkey pets, donkey information, jacks, jennets, foals, geldings, donkeys in Texas, Texas, State of Texas, jackass, burro, burros, jenny, jennies, jennets, donkey babies, quality miniature donkeys, breed, breeding, breeding miniature donkeys, animals, small donkeys,